Any industry can store, produce and utilize hydrogen through water electrolysis. By using an electrolyzer, one can produce oxygen and hydrogen from a pure water supply and electric current.
The membrane of the electrolyzer and its catalysts work to take advantage of an electrochemical reaction in order to separate the hydrogen and oxygen molecules of water. Hydrogen is then utilized for various industrial applications such as heat treatment of metals, hydrogen fuel cells for power generation, hydrocracking, hydrogenation of oils etc.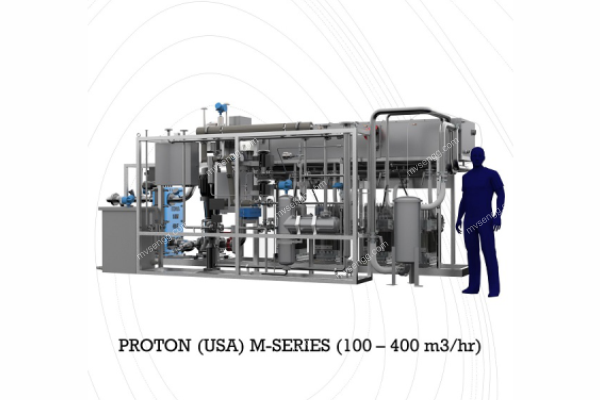 MVS Engineering Pvt. Ltd. Water electrolysis type hydrogen generators are a safe and efficient way to produce hydrogen for all industrial processes. The company has gained extensive recognition in the area of water electrolysis hydrogen generators. These generators are in high demand in the market due to its superior quality. MVS customizes its products as per the specification of its precious clients. Also,the latest techniques are used in its manufacturing process. All air and gas solutions by MVS are made by using the qualityraw material to provide efficient performance to the end users.
The company has supplied numerous water electrolysis hydrogen generators to power plants across India, in collaboration with Proton OnSite, the world leader in hydrogen generation equipment. Featuring a fully-automated design, Proton's complete power solutions employ PEM technology to generate hydrogen that maximizes generator capacity, extends generator lifespan and reduces overall costs at plant sites worldwide.
MVS offers custom designed bi-polar water electrolysis units ranging from 5 to500 nm3/hr in a single train.
S-Series – Up to 1 nm3/hr

H-Series – 2 to 6 nm3/hr

C-Series – 10 to 30 nm3/hr

M-Series – 50 to 400 nm3/hr
Water electrolysis units by MVS provide purity ranging from 99.9% to 99.9998% Hydrogen with balance impurities being water vapor, trace oxygen and nitrogen. If required, any customer can buy online gas purity measurement instruments.
The company also has solutions for customers, who require UHP or Ultra-High Purity grade Hydrogen, Proton Hydrogen generators. Proton Hydrogen gas delivered is guaranteed to be 99.9995% pure with the balance mostly being water vapor. So, inform the company about your process requirements and get the best solution for your process.